December 20, 2018 2:28 pm
Glitz & The New Year's Eve Wedding Dress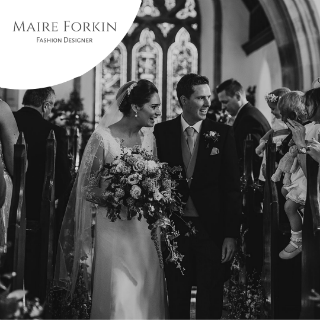 New Year's Eve Wedding Dresses 
Many brides are hosting their wedding day on the biggest party night of the year. And that's right brides wishing to have that special New Year's Eve Wedding Dress!  The idea of tying the knot on the last night of the year are proving too spectacular to resist. Lets face it, everyone wants something special to do on New Year's Eve. From flowing champagne to glamorous settings and having friends and relatives in one place, it seems the perfect occasion to say "I do". By having the occasion for glamour and glitz there is no reason to have a theme!  New Year's Brides want the glamour, elegance and the glitz also. What better time of the year to include that sparkle.
I meet with my clients at my studio in Fitzwilliam Square, Dublin, where we discuss the silhouette and style of the wedding dress which best flatters her figure. My forte as Designer and Tailor is the design and fit. And all my contemporary wedding dress designs are "made to measure" for my clients. I so that they have the perfect and unique dress which they love wearing for their special day.
I sketch out designs of wedding dresses for them and try on style. We also choose fabrics and colour – swatches. Styles vary from streamlined hourglass shapes to those with a fuller skirt with fitted bodice. Embellishments also vary depending on dress style and the clients preferences.
To add to the elegance of the gown beading and embellishment can be introduced to taste. Pearls or crystals can bring both great elegance and richness to the overall style and mood of the dress.
For further information  call us directly on 086 172 1563 or to view  Our Wedding Dresses.  Alternatively to can  book a consultation with us.