Bespoke Designer Dresses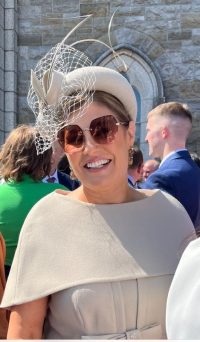 I have been following Maire Forkin designer for a while now. Two of my close friends had excellent experiences with Maire for Mother of the Bride and Grooms respectively.
I contacted Maire and she got back to me promptly.   After my first visit, I was totally sure and convinced that this was the designer for me although Maire asked me to go away and think about it all.  But, I couldn't have been surer. I was as high as a kite as were my two critic pals whom accompanied me on the day.
Maire designs elegant long lines that give you a beautiful figure no matter what size you wear. Her workmanship is pure couture and she has such an eye for perfection down to every last stitch. I had four visits in total and it would have been three visits had I not to have the dress taken in slightly. Maire is the gentlest kindest lady with such a talent for her amazing timeless pieces that are so beautiful.
I have to give a mention to her lovely sister Therese who helps Maire with the administrative side of the business. I honestly loved all my visits to Maire Forkin and cannot wait to wear this stunningly beautiful timeless dress and cape at my sons wedding next week. I'll be a returning customer for sure.
I can't recommend Maire and the complete service she provides high enough advising and guiding to make sure you look the best version of yourself on your special occasion. Photos to follow in a week.
Thanks you very much Louise Doyle
To View Our Collection Or To Book A Consultation