Making any size or shape look good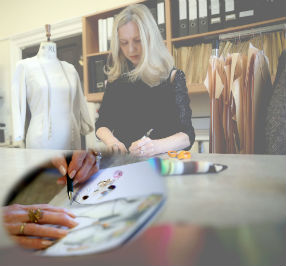 Making Any Size Look Good
"This is what I believe is forte. For many years I have made outfits for women of all sizes and during all stages in their lives. It is important to flatter a client's silhouette and enhance their strong points.
I know that I can give each of my clients something edgy, feminine and still understated. My customers includes Mothers of the bride, Mothers of the Groom in both Ireland and in the UK, Ladies going to The Royal Ascot, Saudi royals, and ladies who just want something extra special for an event or a celebration, perhaps a black-tie event or other big occasion.
My clothes are chic, contemporary and well tailored. They range from a chic two piece outfit, a flattering dresses or a full- length gowns and coats. Ladies want something extra special for an event or a celebration. Women are looking for outfits they can wear again. For an Irish client being presented to Queen Elizabeth this July, I am currently making a sweeping black coat and an evening dress with hand-stitched jewelry to give a taste of opulence. Tastefully designed in clean cut lines and quality fabric, I know that my client will look and feel wonderful".  Maire
To View The Collection
For more information on "Custom Made" Mother of the Bride outfits, see the Maire Forkin Designs Collection. 
Contact us
Book your Consultation  or call Maire directly on 086 1721563