November 7, 2018 12:05 pm
Body Shaper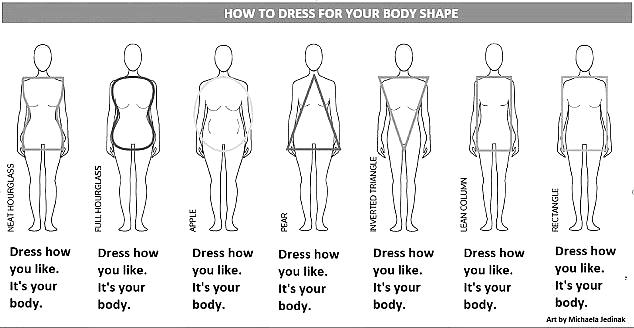 The most flattering styles for your body shape!
When creating the most flattering styles for our clients we need to consider the following points. They first is the body shaper, the science of understanding the individual body shape.  It is important to understand your body shape & the best styles that suit your best. There are the 7 body shapes and we all fit into one of these 7 body shapes. Are you an Inverted Triangle, Lean Column, Rectangle, Apple, Neat hour glass, Full Hour Glass? 
With this body shapes comes do's and don'ts. For example, if you are an inverted triangle you want to choose a narrow-elongated neckline, if you are a triangle you want a wider neckline. The neckline style should bring balance to the shape of your body.
Your body measurements
Large, Normal and small busts will all contribute to your neckline options. Ladies with small busts can wear high, busy and wide necklines. However, you should shy away from designs meant to draw the eyes to the cleavage such as plunging neckline. This will flatten the chest even more. Large busts should wear simple neat necklines staying clear of ruffles. Also, rouging and high necklines with a lot of bulk will cause your busts to look fuller.
Shoulders provide a frame to your neckline. Regular, Broad, Narrow or Sloping. Ladies with slim shoulders can wear wide flattering necklines. If you have Broad shoulders a wide-necklines will add width. So best avoided. Those with sloping shoulders should avoid strapless or halter necks and instead look at wider necklines like boat necklines.
What mistakes do we make?
A mistake often made by women is that they do not choose clothes to suit their height. Shorter women may choose clothes which are too long for them or have too much fabric thus drowning their figure. A different style will suit a shorter lady with large hips to a shorter lady who is very slim. A taller lady may need to cut up the body with a belt detail for example to give proportion.  Again, there fits will vary for a very slim tall lady to that of a tall lady with broad shoulders and a fuller bust.
We work with clients to identify the best shapes & styles to suit their individual silhouette and design preference.  They can choose from our exclusive collection at our studio here in Dublin, and outfits can be made in a range of different colours and fabrics. We then arrange for one or two subsequent fittings before the outfit is ready for collection. To View our Collection
Call Maire on 086 1721563 or Book An Appointment to discuss the best style for your shape.