Maire Forkin Designs Reopening on 17th May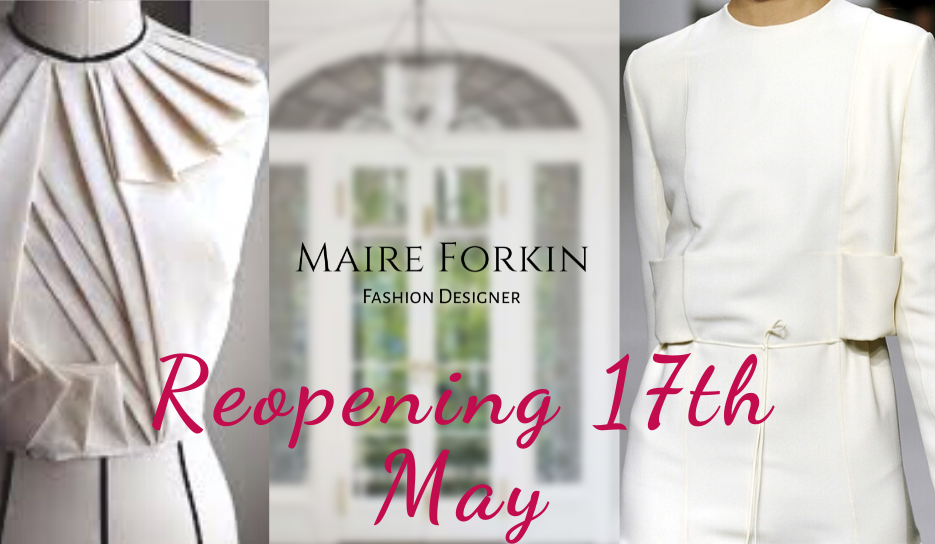 Maire Forkin designs are reopening on 17th May. We are delighted to be doing so after all this time! And we look forward to meeting our clients once again as we get back to the business we love. With so many weddings, and events on hold for so long we have arranged consultations with clients who have been waiting patiently all these months.
We are also meeting new clients who are in the process of finally getting to plan their special occasions, which is really wonderful. – We will be taking appointments from the 17th May and look forward very much to meeting everyone again.
How the Pandemic has Changed Fashion
With the pandemic having changed every aspect all our lives we see that fashion is no exception. Trends are moving more towards season less fashion pieces that will stand the test of time, regardless of the weather, including dresses, coats, luxury bags and fine jewellery. Shopping with a conscience seems to be the new approach, and sustainability is at the forefront of this.
We have noticed over the past year also that our customers are looking more towards investment items.  They are looking for outfits that they cherish and wear for years to come, whether that is a piece of fine jewellery, a heritage handbag or a key piece of outerwear. It means buying really chic, simple and season less clothes in muted colours is a thing of the future.
For More information Contact us on 0861721563 OR email us at info@maireforkin.ie
Alternatively you can book a Consultation  with us