Ladies Trouser Suits for Weddings 2022 by Dublin Dress Designer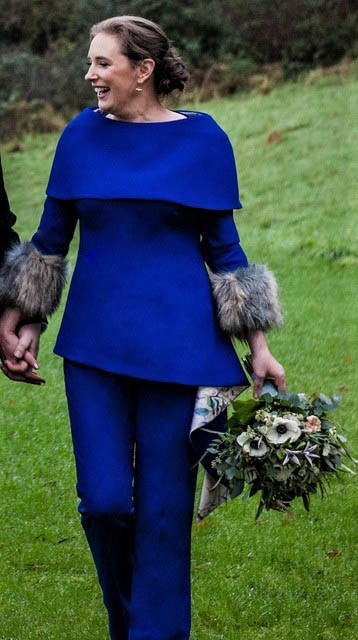 Ladies Trouser Suits
Wearing trousers to your wedding doesn't mean you'll look butch or blocky, it could mean a chic suit, a chic two-piece, or a dramatic style statement all of your own.
This is a testimony from one of our clients whom we made a trouser suit for her wedding and we have a number of ladies on our books for 2022 weddings whose preference is to wear a trouser suit. But this is not a surprise as we see weddings gatherings looking smaller and many of our clients are saying that they want the occasion to be a little less formal, and are feeling that a more relaxed, chic style is the way to go.  Indeed, with the state of the coronavirus at the moment, we are not at all surprised that this is the case.
See a testimony from one of our recent clients who wanted a trouser suit for her wedding.
"I found Maire website through a google search for alternative wedding outfits. I knew I didn't want to wear white. My preference was to wear trousers and wanted an outfit I could wear again. From the first meeting Maire fully supported me in this and she created the most fabulous outfit which suited me perfectly. Like a magic trick it is incredibly comfortable and stylish at the same time. The whole process even in the current covid restrictions was so simple. It was easy and relaxed and is a reflection of Maire's professionalism and calm approach. I felt amazing in this outfit on the day and I am so looking forward to getting lots of wear out of it in the future  once life returns to normality. Huge thanks to Maire and all the team for making the whole process completely stress free which was the vibe I was going for with the whole event!"  Mary Crispie.
Weddings 2021 – 2022
The coronavirus outbreak has swiftly and efficiently cleared our schedules again for the next few months. It's hard to know when exactly we'll be "available" again; optimists are hoping it'll be sometime in late June, while others are preparing for a summer of continued social distancing. Many of us have been notified of at least one cancelled or postponed Summer and Autumn wedding this year.  And, certainly within the industry we have numerous deferrals and date changes.
Indeed, considering the differing opinions we hear on the news, it's impossible to predict when things will feel stable, and weddings will pick back up. But brides with late-2021 weddings in the works will need to make a decision soon. If they choose to move forward as planned, they're going to need a dress.
Despite the huge disruption to the wedding sector during this Pandemic, weddings are set to be as popular once the country opens up. Yes they may be smaller gatherings at least for the foreseeable future.  But the whole wedding venue is not going to die away anytime soon. It is and always has been a big family event, a time for everyone to get together and celebrate a very special occasion. This is particularly the case in Ireland.
While we wait for the country to open up we are offering introductory consultation via Zoom and FaceTime. This is proving to be very popular among our clients. It is an opportunity for them to see options that they may consider. Despite the fact that wedding venues have been pushed out and changes on many occasions during the past year, people are looking to the future with hope. And we all are!
Why not have your special outfit designed for your special day.  You can also view our Collection
For further information contact us on 087 1721563  Or To Book A Consultation