Irish Twin Sisters Lead the Way In Fashion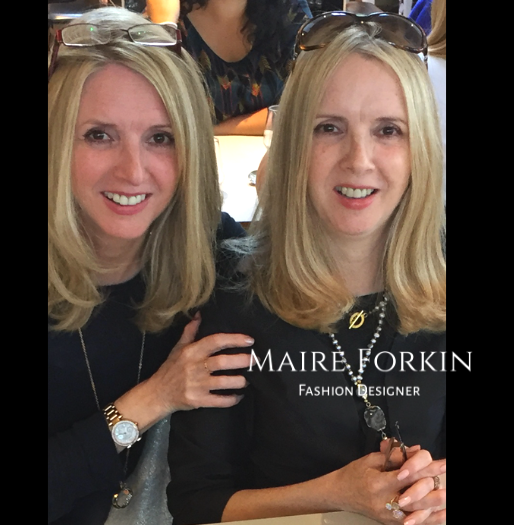 Irish Sisters Lead the Way In Fashion
Maire and twin sister Therese mix work and play quite often, sharing plenty of laughs and light teasing of one another throughout the workday. At Maire Forkin Designs, these two empowering women do it all with grace, poise, and a little fun.
Maire Forkin, the designer of the two, has been designing clothes since she was very young. She said she knows she was destined for a life in the fashion industry. After gaining a decade of experience in various fashion houses across Europe, Maire started her own company. She honed in on the untapped market in the women's fashion world. Her experience has given her quite the reputation, getting deemed the top Irish fashion house in all of Ireland. She has become an expert in her most famous work, made-to-measure fashion. From starting in the back of her kitchen to where she is now, her success speaks for itself.
We have never been short of a customer
Maire and Therese's beloved mother once said, "From the very first day she started, I have had a continuous customer base. She has never been short of a customer since; it's been one after the other." While she is lucky to have such a following from the start, it was no easy task. Starting a business while trying to keep a job to pay the bills was extremely difficult. It required true grit and determination.
Her life has become her business, which can be tasking but incredibly rewarding. She wouldn't change it for the world, although she does believe that if she never found fashion, she might have been a charity worker, a painter, or a dancer.
Working side by side with her sister has made it even more sentimental and special. Maire and Therese say it's fantastic to work with one another. "It's like working with someone who knows you better than you know yourself. It's brilliant!" Maire exclaimed. Managing a business during the 2018 recession, dealing with the COVID-19 Pandemic, and various obstacles along the way have been easier to navigate with her twin by her side. While Therese focuses more on customer relations and scheduling, Maire can  work on designing, focusing more than ever on her latest pieces likely to reach the runway in September.
Signature Look
This much-anticipated collection will stay true to Marie's signature look – timeless, chic, and contemporary. And adding new elements of uniqueness to make each piece awe-inspiring. While she can't reveal too much, she is so excited to put out something new and different.
Her favorite part about designing new garments is the creativity. It is the inventiveness, which she feels is her most vital asset. When asked what inspires her in designing new material, she said she finds everything inspiring about inventing something new. Creating a new look or concept, making the patterns and forms – it's all aspects of the design process she loves so dearly. She is drawn to origami designs and 3-D sculptured looks, often starting her design process there and expanding.
The Design Process
She begins her creative process by looking at silhouettes, fabrics, and their coloring. She always ensures the material chosen is what we fall best for the piece's shape. Especially when she is creating her most famous made-to-measure looks, her primary focus is not on the clothing itself but on the women's figure and silhouette.
While Maire is in the business of fashion, she finds that a lot of the time she's in the business of self-help coach or woman's relations. She speaks passionately about the importance of ensuring every woman is confident in what they wear and feels their absolute best. When I asked Maire and Therese about creating clothing for females, they each believe strongly that it's an essential aspect of the piece to bring them pure confidence and joy.
Importance of Shape
She says, "You have to be very sensitive to the customer's silhouette, if you care, and show them what to wear, and how to wear it, that level of care shows. I believe I bring a whole new look to women. It's a different way of dressing. Understated glamour I can do very well. Effortless style." She knows that every woman can look really well if they have the correct style and silhouette for their body.  And she knows she can be the one to bring them that. In her many years of experience, she has learned so much from mentors, professors, and her employees and clients.
My favorite eras of fashion
Maire has formed astute opinions on the industry and even gave me a taste of what she is not quite as fond of. Her favorite genre of fashion is the swinging 60s. She even considers this time to be the most influential in fashion history. Thanks to famed designer Mary Quant, she created pieces that embodied the freedom and energy of the decade. Shaping an entire generation of women's wear.
Many of her works are Quant inspired but remain true to her look.  While the '60s is the dream style era, she thinks if she could only wear one piece forever, it would have to be a monochrome contemporary top and trousers in either black navy or stone. She hopes bohemian fashion stays a relic and hopes one day soon, bandage dresses will be a thing of the past as well. Her dream would be to design a piece for Brigitte Macron, the French President's wife, and Meghan Markle.
How does the future look?
As of now, her favorite models are herself and her sister Therese, always seen in a Marie Forkin original and looking quite stunning and polished, if I do say so myself. So, what does the future look like for Maire Forkin Designs? Maire and Therese have big plans and hope those plans come to fruition sooner rather than later. With their fashion show coming up, they expect the pieces shown to be put up on their website for ready-to-wear purchases, along with their classic works from varying collections.
Modular Clothing
Maire is dedicated to making sure each piece is still deemed custom, giving the customer an opportunity to pre-order a garment and customize certain aspects of the design. Her most popular articles are modular, meaning they can transform into multiple pieces. For example, creating removable sleeves, pull on fur cuffs, pull down collars, etc. She knows that when her modular pieces hit her website for purchase, they will do very well, giving an already intentional form of customization along with the actual customization offered. Because made-to-measure has taken up so much of her time now, she wants to keep offering made-to-measure options while also advertising her ready-to-wear custom collections. She even sees the possibility of creating a partnership with a high-end department store. The sky is the limit, and she and Therese can't wait to see where they can go from here. In the meantime, she hopes to reach a larger audience through social media, as many of her clients come from word-of-mouth promotion.
Our Client base
Many of her clients are now based in Ireland and the UK; however, through social media, they have begun to expand into the US and various European countries that want Maire's look. They are offering everyone an opportunity to work with Marie and Therese, whether it be in person or over Zoom. She wishes that the future of fashion will fall into a more capsule-driven industry, focusing on the quality of items over quantity. However, she sees a continuation in the push for unisex style, different forms of lyrca being heavily used, and eco-friendly fabrics.
While sustainable fashion is important, Maire notes that sustainability is often misused and misrepresented in the industry.  And this is specifically within the quality of fabrics. The sisters jet off to London this weekend, meeting with fabric productions and fabric merchants to place orders on the best fabrics in the world. These fabrics will create what Maire is most proud of when she speaks about her business; very well-finished made to measure contemporary chic pieces that double as timeless investment classics. Despite their busy schedules, they sat and talked with me and shared the thrill of their upcoming upcoming projects. I can't wait to see their newest work and their website revamp, which you can visit here.
CONTACT US
Visit Maire at her studio at 30 Molesworth Street, Dublin 2. You can view our exclusive collection of designer dresses and coats. For more information on our Contemporary Collection
or to Book A Consultation.
For further information speak with Maire on 086 1721563 or Contact Us.
Editor: Devon Fenesy: