Irish Enterprise Award: Fashion Designer of the Year 2020; Maire Forkin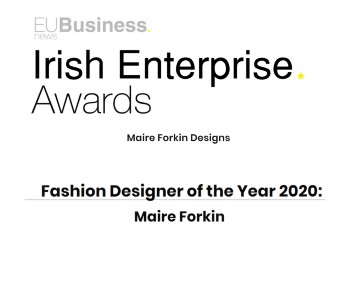 Irish Enterprise Award: Fashion Designer of the Year 2020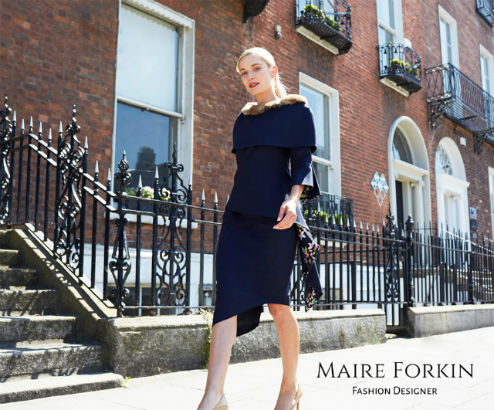 Savvy shopping has always been a skill that many of us wish we had; the ability to know exactly what fabric and colour perfectly matches the silhouette and style preferences. However, shopping is no longer necessary to find such exclusive items. Instead, the most discerning of clients can enlist the services of Maire Forkin, and her design studio in Dublin. To discover why this fashionista has been named Fashion Designer of the Year 2020, we at the Irish Enterprise Awards 2020 took a closer look at her stunning designs.
From her studio in Dublin, top designer and tailor Maire Forkin specialises in ladies clothing that is hand-tailored and made to measure. Clients can view her exclusive and extensive collection, as well as have an outfit made in fabrics and colours of their choosing. No two women are the same shape, and what suits one lady will almost certainly not look the same on another. When attending exclusive events such as weddings, race meetings, or other special occasions, there is always the worry that someone else will be wearing the exact same outfit. With Maire Forkin Designs on the case, that worry is no more.
Clients can get an outfit that is not only a perfect fit in the style, colour, and fabric desired, but it is also unique to them as an individual, helping to accentuate their figure, whether that be in terms of slimness, height, or curves. Together with her team, Maire prides herself in providing a highend, professional service to clients that ensures complete satisfaction from initial consultation and fittings, to receipt of the finished outfit. Maire herself meets with clients during all stages of process, whilst the machinists work with her to make the outfits according to individual client specification.
Services Offered by Maire Forkin Designs
Made to measure outfits are a new luxury, one that is easier to access than ever before. Previously, made to measure designers and couturiers had a special relationship with celebrities. Now, however, stylish women all over the United Kingdom and Ireland can have the gold standard of couture clothing thanks to Maire's work. Maire's career in London has spanned more than a decade in couture, resulting in her emphasis on structure and building shape corsetry into a silhouette. All of her designs are underpinned by creative pattern cutting, skilful sculpting, and artful use of jewelling, with each one having an identity all of its own that is clean, chic, and contemporary. Today, Maire now serves customers such as mothers of the bride and groom, ladies at race-meetings, or simply those across both the United Kingdom and Ireland who just want something a little extra special for events or celebrations.
Alongside her team, Maire specialises in identifying the most flattering design for each individual client, taking into account the silhouette and style before creating quality outfits that fit perfectly. Maire is remarkably skilled in meeting these demands. Her forte lies in being able to listen to clients and understand what suits them best, generating garments that are sure to turn heads, no matter the occasion. At a time when stylish Irish ladies are embracing their individuality, Maire Forkin Designs is creating quality classical styles and fits.
What the Future Holds for Maire
Looking ahead to the future, Maire and her team will continue providing the made to measure service that is currently offered, whilst also getting ready to show off a small ready-to-wear range of niche coats and dresses in standard sizes later in 2020. Now stylish ladies from all corners of the continent can upgrade their wardrobe to the next level, with custom-made clothing that is totally and completely ready for the red carpet.  Company: Maire Forkin Designs  
Website: www.maireforkin.ie