September 30, 2020 11:38 am
Getting A Dress Designed During The Pandemic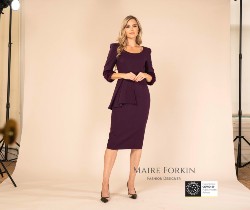 Have you been worried about getting a dress designed during the pandemic? Perhaps you had a wedding planned and have had to make a number of changes.  Maybe now you will have fewer people going to the wedding?
But you still want to have a beautiful outfit to wear? A dress that fits perfectly and is flattering to your figure. Or maybe you are looking for a specific color dress?
But all of this said, you are nervous of shopping right now, as many people are?   And with so many changes brought about by COVID-19 we all need to look at things very differently. Unfortunately, the Coronavirus is not going to go away any time soon.   We need to continue to be vigilant to ensure our own safety and that of our loved ones, our friends and our colleagues alike. COVID 19 has come with it many Health & Safety Regulations which we all need to adhere to.
Personalized Dress Designer 
Maire Forkin Designs provides you with the safety and confidence you are looking for.  As a business that provide a very personalized made to measure service to our clients. And we have been making designer outfits for our clients for over 15 years and have a wealth of experience in dressing our clients. We pride ourselves in quality and exceptional fit and finish.
Right now to conduct our consultations in our Dublin showrooms, with clients wearing face visors and masks. Yes, we have to admit this was initially quite daunting to begin with. But even after the first number of weeks we saw just how supportive our clients are, and this has given us the confidence & encouragement we needed to move forward.
We meet with our clients on an appointment basis they can be confident of a safe environment where there are no queues and no issues with social distancing. They are also assured of car park spacing at our premises. Our clients have said that they feel both safe and comfortable when they visit us…! So getting a dress designed during the pandemic can be a pleasant and rewarding experience.
The downside however is that we no longer can offer our ladies a coffee as we discuss their design with them….:)  Maire
For Book A Consultation  or to view our Collection