Designing for Family Wedding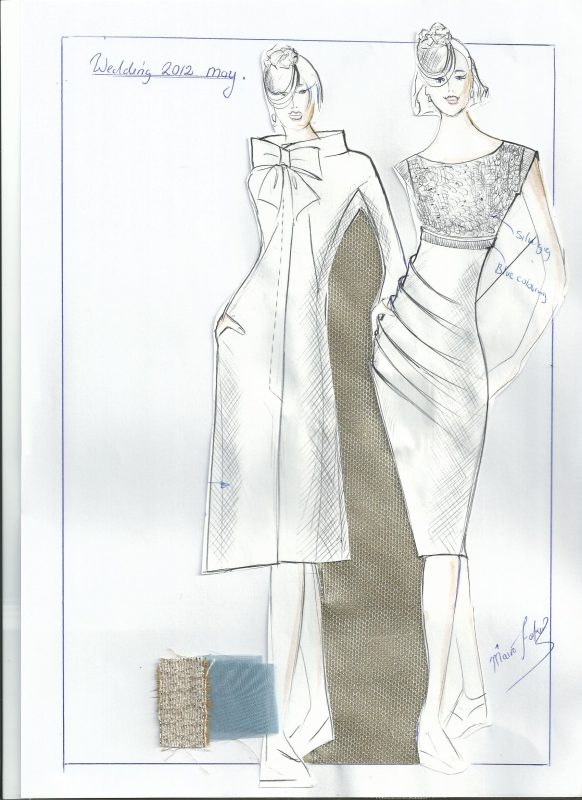 Having been to our own family wedding earlier this year, I am even more aware of the stress involved in getting the outfit together which you  feel totally comfortable in.  I have learned alot from this experience. I dress many ladies, many Mothers' Of The Bride and Mothers' of the Groom, and I have a greater understanding of the pressure on these ladies to get their outfit "just right for the day…  To get the look that is not too over the top, or indeed too understated. It is a difficult one, but, I enjoy the challenge everytime!
Any outfit for a wedding is not complete first and foremost without the correct Head Piece . It should be specially customised to compliment an Outfit, having the correct colours, fabrics and sytle. I always perfer facinators to hats, as my clothes are failrly detailed, so less is always more!.
Bernie Gerathy , see below, on the right, is wearing a similar type dress and cost to the one  I wore myself to our family wedding. It is a fairly relaxed outfit to wear, and yet it looks glamerous! The slim fitting hour glass dress is in white gold lurex meash and silver /grey bodice with tiny embellishments to add a little sparkle.
The coat has a floating panel at the back, which is a striking feature, and a wide optional neck bow tie on the front, which is in a wool fabric with a silver lurex mesh.
The head piece, a simple disk shape is designed to flatter most people, and I really think it works so well. I have a little sketch below of the total outfit.
I am very pleased with my dscision in designing and making this for this big occasion. My aim is to have all clients as pleased!
Maire Forkin