Can I be of assistance?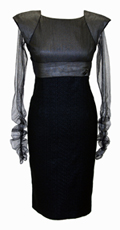 You haven't got a second to spare these days and you have to find an outfit for your upcoming event, or for a black tie event. The points I feel which are important to get right when purchasing these outfits are personally and which I think is the most important point is to get a very flattering silhouette most suited to your body shape. Easily said, I know, but this may be as simple as getting a fitted shift dress with the waist positioning in the correct in the correct position or the length of the dress customised to you height.
Silhouette and identifying the clothing style and shape to suit you specific female profile is key. Secondly, in these times, when everybody wants to buy investment pieces, it is important to buy an outfit for stand-alone dress that you can wear many times and an outfit, which can be dressed up or down if required. And, even better, if it is trans-seasonal.
Buying accessories and getting them right is all important. Too much and there is an overkill and too understated and it does not work either. I will always recommend the LK Bennett brand. They have a wonderful of sledge type shoes and sandals and matching clutch bags. And, all in very complimentary colours. Of, course, the LK Bennett range of bags is a very desirable brand now because of all the press attention it is receiving due to the fact that Kate Middleton wears and admit to it being one of her favourite brands.
Getting the right colour for your outfit can be daunting. We are all creature of habit and sometimes, a little scared to experiment. Yes, if buying a total look, coat and dress, I would suggest playing a little safer as, understated may be the best choice. But if buying a stand alone dress, one can definitely experiment with a more daring vibrant colour. If you wish to call or make an appointment, I am happy to speak with you. If you wish to purchase, I would make you feel confident that the purchase is the right one for you.