February 23, 2022 11:02 am
How Designer Maire Forkin Found Her Niche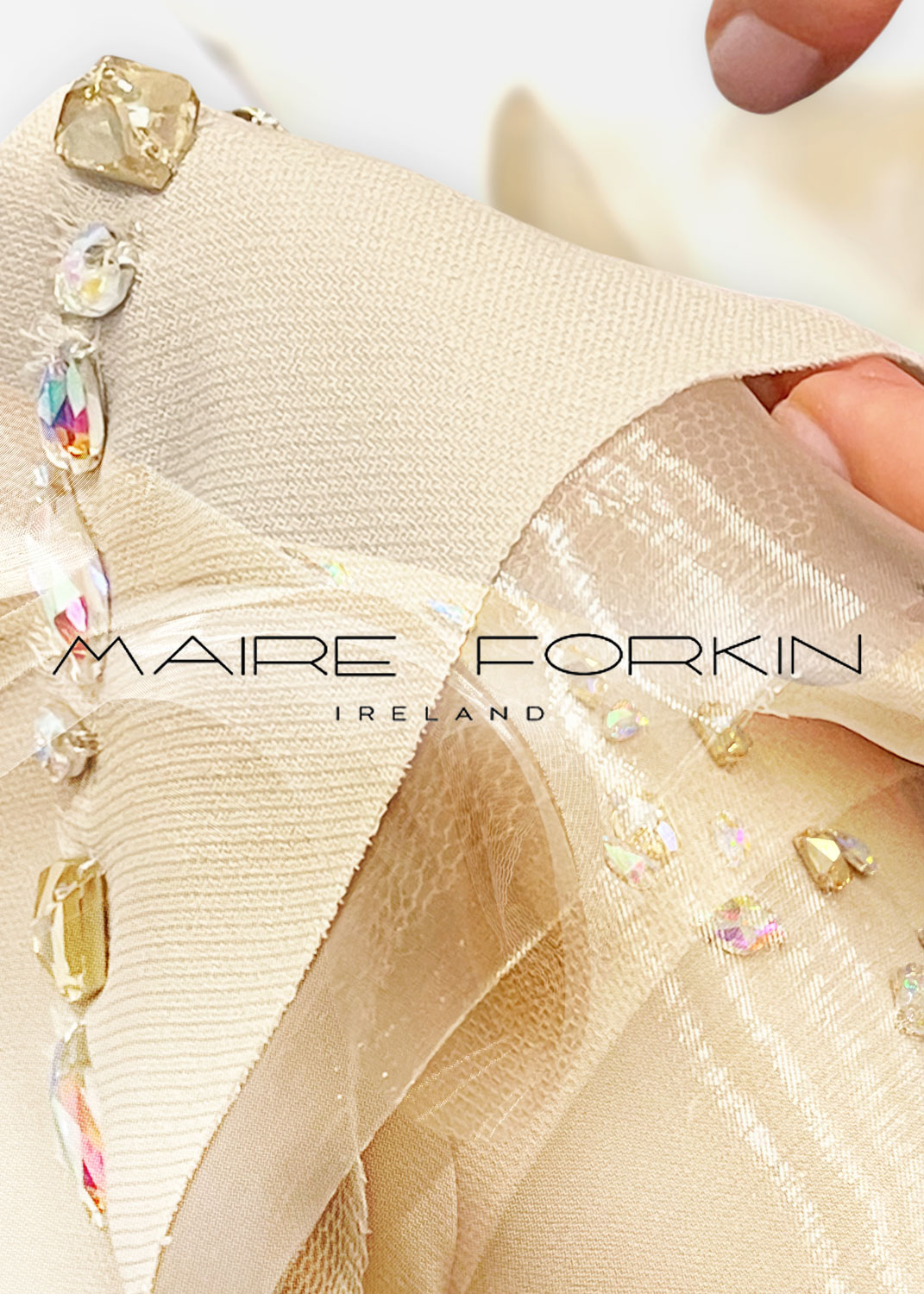 From as early as she can remember, Maire has always loved to draw, paint, and make her own clothes. She has always been driven by her creative passions. As early as the age of 16 she appeared in a local newspaper sporting her own small collection. She later qualified with a degree in Fashion Design from The Limerick College of Fashion. She then went on to complete a masters in tailoring at The London College of Tailoring. Maire worked in London for over 17 years where she gained experience both in couture and ready-to-wear fashion. On her return to Ireland just over 13 ago, she set up as a solo designer, a venture that has spanned over a decade. In that decade, Maire found her niche in the fashion industry by making stylish and tailored women's occasion wear. Maire is as confident as ever when it comes to the quality of the work she produces for her Irish and UK clients.
Maire's Expertise
Her forte is designing and creating the most flattering shape for the client's individual style. As such, she offers a made to measure service to her clients. She designs quality garments in good fits and in contemporary classic styles. Maire's customers include mother of the bride, mother of the groom, black-tie events, ladies going to the races and other special occasions. She also designs contemporary wedding dresses. Her outfits offer both versatility and exclusivity to the wearer.
Through the process of constantly learning and growing, Maire Forkin has established her brand as a trusted resource for women seeking outfits in her area of expertise. Maire Forkin Designs is unique in that all of Maire's garments are created on a client-by-client basis with absolute attention to the needs of the individual. Her process involves discussing the client's vision with them and deciding on a style. Then, she fits on a toile in their size (a mock version of the garment that is used in a fitting). She uses this to adjust the pattern so that the finished version of the garment fits perfectly on the client. This is quite a laborious process, but it is well worth it for the resulting quality of the clothing. Maire also designs outfits with shaping in mind. This requires different levels of fabric fusing (which strengthen the fabric) in areas that require hold. Maire believes that it is important to know and understand the client very well before beginning a design for her.
"I have watched so many customers be transformed. They like how they look when they discover clothes that make them feel attractive and enhance their silhouette. Every woman wants this positive experience from clothes," says Maire about her detail-attentive process.
How Maire Built Her Brand
When building her brand, Maire noticed an unaddressed niche in the fashion market for stylish classic and non-traditional formalwear that is tailored to shape the person (and the personality) who wears it. The styles at Maire Forkin Designs intend to highlight the best features of the wearer, including her personal style, and are never standard. Maire also embraces the future of fashion by designing non-traditional wedding looks both for brides and mother of the bride. This is an area that she excels in because she is constantly adapting. By asking for client input in a series of personal consultations, Maire is always learning what new fashions are becoming desirable. Especially in her clean and energetic mother of the bride designs, Maire is happy to take part in the revolution in women's occasion wear.
A client of Maire's gave the testimonial: "Maire's ideas and personal touch were inspiring. She always amazed me with innovative ideas and her openness to my uneducated ideas. My experience with Maire's business was memorable. I felt very special at each fitting. The quality of her material and design will not be surpassed. It was the best experience I've ever had in choosing a special outfit!" This is the goal with every client that visits Maire—"we will work hard to create their most ideal look".
How We Work
Maire Forkin Designs has grown gradually over many years to meet customer demand and changes in the fashion market. Though we outsource materials and other services that help run the company, most of the major creative work happens between a small team of people who pattern, cut, sew, and work face-to-face with clients during the design process. Everyone on this team is highly skilled and valued within the business. We make our own fabrics, which provides us a range of quality fabrics in a variety of colours which are completely up to our choosing. Maire Forkin Designs is also proud to be a made in Ireland brand, and we strive to buy Irish-made materials whenever possible. It's a point of pride for Maire to use high-quality materials while also supporting Irish businesses.
Contact Details
Visit Maire at her studio at 30 Molesworth Street, Dublin 2. You can view our exclusive collection of designer dresses and coats. For more information on our Contemporary Collection or to Book A Consultation. For further information speak with Maire on 086 1721563 or Contact Us.
Edited by Alysha Hipes