Irish Times, The Cut Of You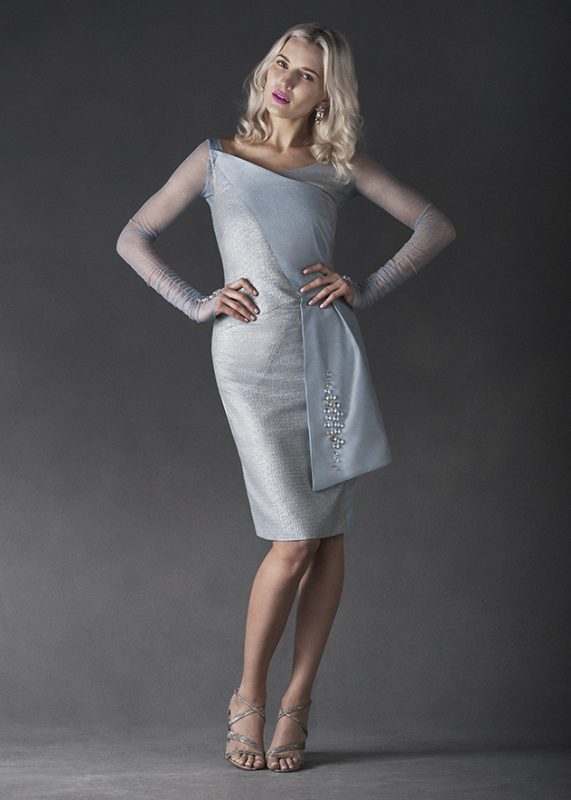 Designer Maire Forkin says she can make women of any shape and size look good. It is all in the cut, she tells
Deirdre McQuillan
The Proud claim of the Dublin based fashion designer Maire Forkin, who specialises in hand-tailored made to measure outfits from her salon on Fitzwilliam Square is: "Give me a person of any shape or size and I will make them look gorgeous". Anyone who watched the former Eurovision winner Eimear Quinn performing at the Royal Albert Hall during President Higgings visit to London last month will remember the singer's blue skilk gown, stunning and sparking with blue, green and amber crystals made by Forkin for the occasion. "If you really flatter a person's silhouette, you are home and dry", she says. "It's about enhancing a person's strong points. I knew I could give her something edgy, femenine and still understated." A fashion graduate of Limerick School of Art and Design from Ballyhaunis, County Mayo, Forkin went on to study tailoring in London and worked for many years with the fashion designer Catherine Walker (a favourite of the British royals – particulary the late Princess Diana.) Later she worked with the Savile Row tailor William Hunt, whose customer have included the Spice Girls, Johnathan Ross and Graham Norton. Later still, she spent time working with the high-street stores Wallis and Dorothy Perkins in ready-to-wear. When she returned to Ireland she brought 16 years of experience and shape engineering under her belt with her.
Today her customers include mothers of the bride both here and in London. Saudi royals and women over 25 who just want something extra special for and event or a celebration. For an Irish client being presented to the Queen Elizabeth in June, she has made a sweeping black coat and evening dress with hand stitched jewellery. For a mother of the bride who is walking her bride down the isle, she is fashioning a full-length gown. "Personally I hate lace dresses on them. Mother's of the bride still want the dress-and-coat ensemble, the whole idea being that they can wear them again". She can also arrange for a silk dress to be redyed by a specialist in London.
Forkin is known for her emphasis on structure and building shape without corsetry into a silhouette. "I hate slip dresses and find them the most difficult to make". She cuts an individual pattern for each client, as well as customising from existing ones, "so a client can have a new look with a different fabric". Normally there are up to three fittings with a lead time of up to 12 weeks – though she has made a wedding dress in just three days. " My forte is that I can sit and listen to them and figure out what suits them best"
Her style underpinned by creative pattern cutting, skillful scuplting and artful use of jewelling, has an identy all of its own that she describes as "clean, chic and contemporary" Such outfit are destined for the soignee life longer than a season. Whereever Eimear Quinn wears that dress again, she will always shine.