February 21, 2023 4:23 pm
Why I choose a career in Fashion Design?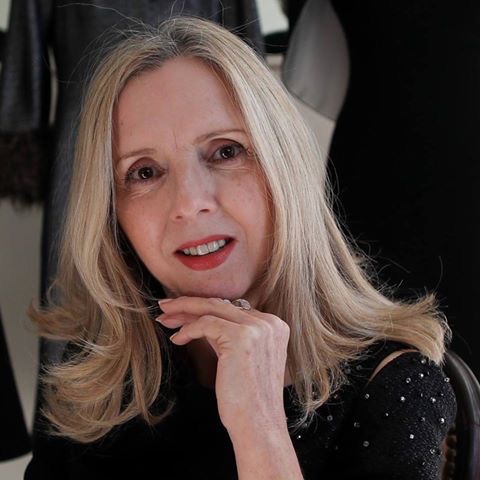 Why I choose a career in Fashion Design?
I knew very early on that I was destined for a life in Fashion. On reflection, I had never considered any other career. As far back as I can recall, I can remember spending time drawing little images of dresses and coats. I really enjoyed restyling these in different shapes, colors and accessories.
At the age of 16 I had designed and made a number of fashion pieces for myself and my sister. These were later showcased in the local county newspaper. And so began the start of my journey in the world of fashion.
-Are they the same reasons that you continue to be involved today?
I have always loved fashion design and am probably best known for my work in designing styles for the various body shapes. There are as many body shapes as there are women. I can say confidently having dressed several thousand ladies over the past two decades, that no two women have the same shape or style preference. So, a standard size 14 dress will look completely different on every lady.
My work is about fashion architecture or sculpting a design to suit the body shape. I enjoy designing a new look or concept and then making the pattern for my client. I enjoy introducing origami and 3-D sculptured styles, looks that flatter the silhouette.
-How has your work evolved over the years?
A fashion graduate of Limerick School of Art and Design, I went on to study tailoring in London College of Fashion. I worked as Designer and Tailor to a number of Tailoring houses in Savile Row. We worked for clients including the Spice Girls, Johnathan Ross and Graham Norton.
I also worked with the high-street multiple stores, Wallis and Dorothy Perkins in design and creative pattern making for their ready-to-wear ranges. Having returned to Ireland after 16 years in Fashion in London, I set up my business in Dublin, specialising in ladies' hand-tailored outfits. I knew I had homed in on the untapped market.
And I have to say that since the day we opened for business we have been constantly busy. My client base is mainly from Ireland, the UK and the US. We have become best known for my emphasis on shape and building structure into our designs. I have always felt strongly about the importance of enhancing a person's strongest features. And I am confident in achieving the look best flatters the client's silhouette and style preference.
It is true that women no matter what age, want to look their best and feel confident. They want to look great and feel comfortable in what they are wearing. They can often struggle with achieving the look they want in ready to wear clothing in standard sizing. It can be difficult to get the right sleeve or dress length. Or the outfit they want may not be available in the right colour?
In providing a tailor-made service, we are more likely to provide them with the look they are hoping to achieve. And equally important an outfit that they feel they look their best in. Women are looking for edgy, comfortable styles, an outfit that fits perfectly. Instesd of putting the outfit to the back of the wardrobe when the occasion is over, they can wear it again on many other occasions and always look well.
 -What are the challenges of the vocation?
As we are in the business of providing a quality high end product, it is essential that we have the correct fabrics. Since Covid some of our fabric agents have increased their prices to incorporate rising transportation costs. Other have ceased trading.  We have been very fortunate however that most of our fabrics are now made in Italian and French mills. This allows us to continue working with them.  We can manage the design and quality of our fabrics, as well as the weights and colours we get made. This is most important when we are not mass producing.
-What are the rewards?
We enjoy designing outfits for our clients. We get rewarded when we see them looking confident and happy wearing the designs, we have created for them. It is inspirational to get client positive feedback. Indeed, down the years much of our business has always been mostly from referrals.
 -What have been some career highlights?
 Setting up my own business was the highlight of my career. It was a great move, and an opportunity to bring together all the skills I had learned over the previous number of years in Fashion. It was also the way to provide a ladies' tailoring service, the area where my strengths lay. I could see an obvious gap in the market for a made to measure service. Indeed, few such business are available today which is surprising.
-What makes your work unique?
We believe that ninety per cent of customers wear ten per cent of what's in their wardrobe. As such, we encourage our clients to think through what they are purchasing and advise them on ways of mixing and matching them. We encourage them to think "investment pieces". We provide them with timeless and quality clothing that they can wear again on many occasions.
–What makes a good piece/item of clothing?
A good piece of clothing needs to be made in quality fabric and have the right shape. It also needs to have structure. An outfit must sit properly on the person, otherwise it will not look good. It can be the difference between what could be described as a shoddy or a striking piece of clothing!
-What are your thoughts on the current state of fashion in Ireland/Dublin?
Over the past number of years larger fashion companies have gone down the route of providing more ready to wear clothing lines. Many such collections are offering more relaxed casual looks. Fewer are making "occasion wear" clothing lines available.
We started to see this trend during Covid when people could not go to shops to try on clothes. We believe that it is for this reason that designs had to become more generic.
Not all that much has changed since Covid however. Our clients are finding it more difficult to find occasion wear outfits in shops even today. This change in fashion trends certainly impacts ladies in their forties through to their seventies. Their preference is to see an outfit and to try it on before they buy it, whereas the younger population are more inclined to purchase clothes online.
-What's next on your creative agenda?
Over the past couple of years, we see how our most popular selling designs are modular, meaning they can transform into multiple pieces. For example, creating removable sleeves, pull on fur cuffs, pull down collars, etc.
Because made-to-measure has been taking up much of our time and is in such demand, we will always continue to provide this service.
In addition, we plan to branch out to provide ready-to-wear custom collections that will appeal to our existing client base. They will also attract wider audience as we develop our client base through social media. It will be of interest to potential clients looking for "Maire's look". We will be providing more details about this later this in 2023.
For further information speak with Maire on 086 1721563 or Contact Us