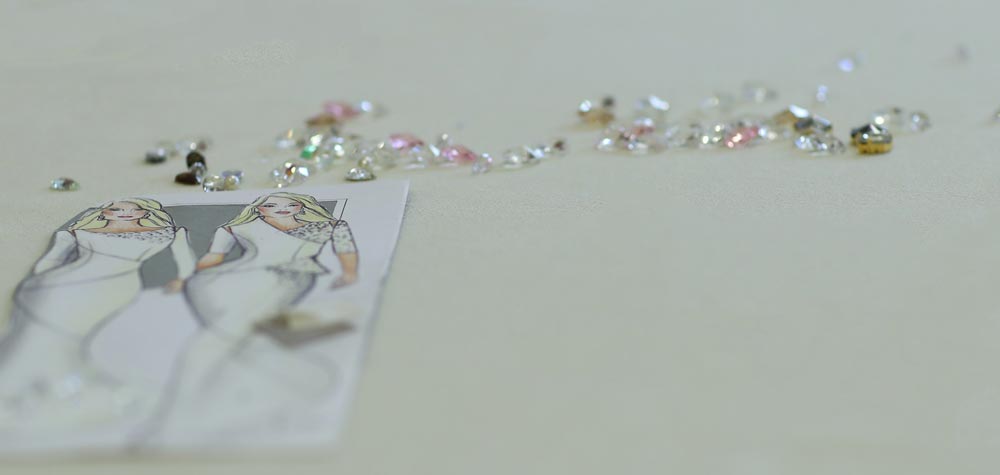 Maire believes that streamlining the body with sculpted well-constructed, understated garments lending itself to a proper fit and balance, is the key! This, coupled with quality fabrics, attention to detail and the use of precious stones and exquisite trimmings provides the dignity of beautiful chic and elegant clothing".
"I believe it is true that a lady who presents the best version of herself to the world will exude confidence!  And my clients want this, the perfect shape, style and colour, an outfit that they are able to wear on many occasions.  An investment Piece!.  I love seeing a lady being transformed when I make her an outfit which bests flatters her silhouette and individual style, a result unlikely to be achieved in wearing standard sizing."
Maire offers a personalised styling service to her clients. She dresses ladies for Royal events, musical performances, the races, weddings and many other special occasions. She has a wealth of experience in both the UK and Ireland styling her clients to suit their individual figure and style preference.
Maire meets with the client at her studio to discuss  the most appropriate styles and silhouettes from her collection, and help them select fabric and colours.  Her classic styles are creative, sophisticated and clean cut, yet understated. Her dresses, skirts, tops, capes and coats are styled into a co-ordinated collection of investment pieces that allow for versatility and flair.
She also gives advise on headpiece, shoes and accessories to compliment her creations.