Wedding Dress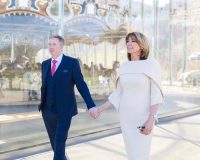 Getting married in New York was perfect! There were only going to be four of us at the day but I still wanted my dress to be special without being the typical frothy  – at 51 years of age I had to get it right!
I had seen Maire's Facebook page just by chance and I was immediately drawn to her classic designs. I arranged a consultation and everything just fell into place perfectly from that point on.
Maire listened carefully to my brief, took my body shape (and all my hang ups about it!) into consideration and worked with me to produce precisely the dress I had in my mind's eye. She never attempted to 'push' ideas on to me and she quickly knew what would work for me and what wouldn't.
The whole experience was an extremely positive one. Fittings were relaxed and stress free, just how I wanted everything about the occasion to be. I collected my dress on a Thursday and flew to New York the next day – I didn't look at it until the morning of the wedding. It had been so well wrapped that I didn't need to touch it before slipping it on.
Everything I had hoped it would be – fabulous and, on the practical side of things, extremely comfortable.So many people commented on it and asked where I had bought it. I was delighted and proud to be able to tell them it was by an Irish designer. I couldn't recommend 'Maire Forkin Designs' highly enough. From start to finish, the entire experience was positive, relaxed and stress free and I felt fantastic in my beautiful dress which I hope to wear again at my niece's wedding later this year.  Thank you Maire for all your help, advice and wonderful talent!